Cwrw ar y Cledrau' returns on June 9th & 10th 2023 with a vibrant mix of Real Ales, Steam Trains, and Live Music!
The North Wales group of the Welsh Highland Railway Society are pleased to confirm arrangements for the 17th annual (with the exception of 2020 and 2021) Cwrw ar y Cledrau beer festival. It is amazing it has continued for so long, big thanks to the organising team, many of whom have been there since year one.
Opening Hours: 1100 until 2300 both days.
Regular shuttle trains between Caernarfon, Dinas and Waunfawr.
Tickets in advance or on the door.
The live music is included in the entry price for each day.
There will be the usual excellent selection of real ales and ciders specially selected by our bar manager, Eryl Morris. All are from microbreweries, many of which are based in north Wales. You can be sure of a great selection with plenty of choice to suit all tastes.
Come along and enjoy yourselves!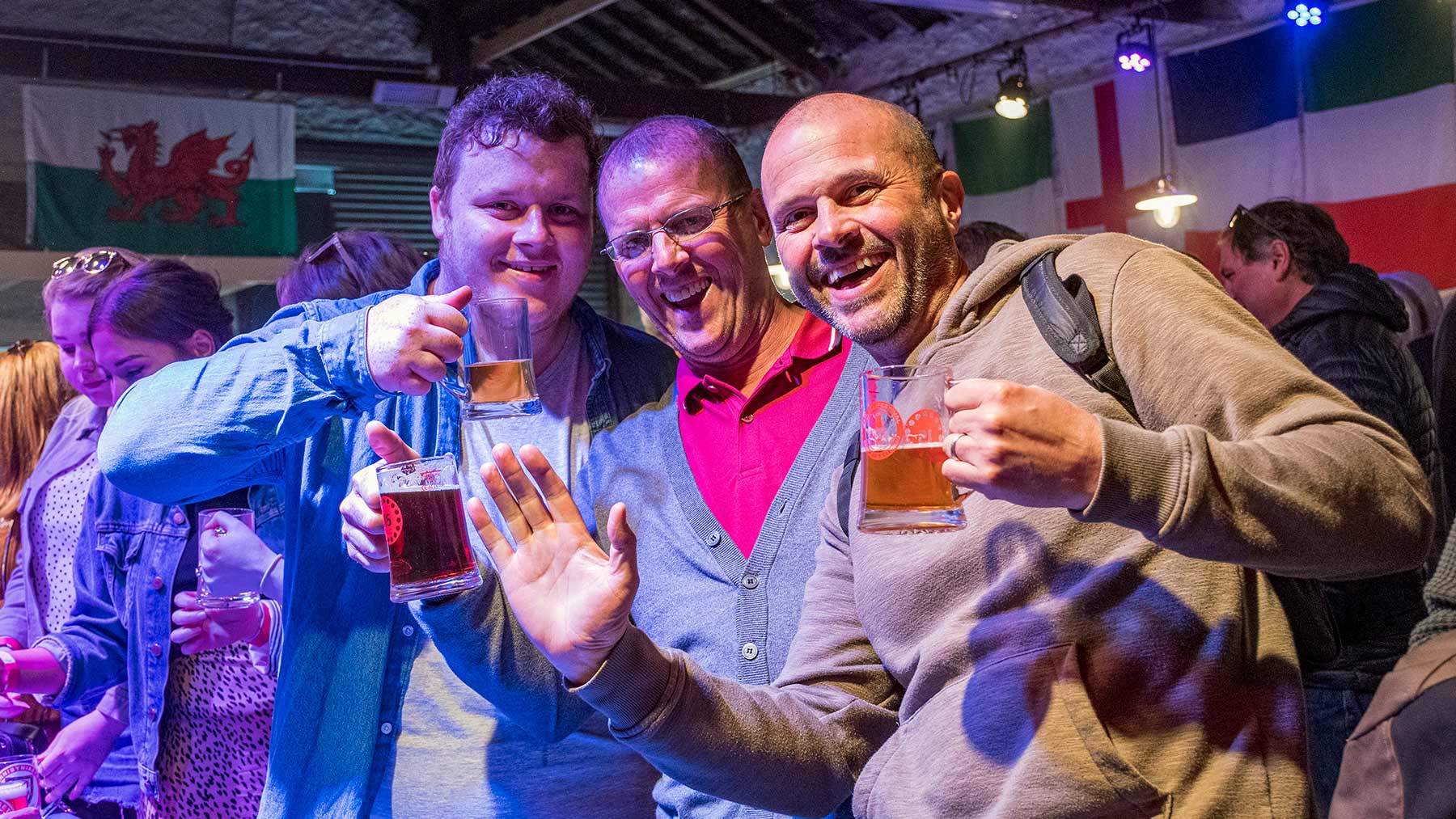 'Cwrw ar y Cledrau' yn dychwelyd yn 2023 gyda chymysgedd bywiog o Gwrw Go Iawn, Trenau Stêm, a Cherddoriaeth Fyw.
Mae grŵp Gogledd Cymru o Gymdeithas Rheilffordd Eryri yn falch o gadarnhau trefniadau ar gyfer gŵyl gwrw Cwrw ar y Cledrau am yr 17eg flwyddyn (yn eithrio 2020 a 2021). Mae'n anhygoel ei fod wedi parhau cyhyd, diolch yn fawr i'r tîm trefnu, llawer ohonynt wedi bod yno ers blwyddyn un.
Oriau Agor: 1100 tan 2300 ar y ddau ddiwrnod.
Trenau gwennol rheolaidd rhwng Caernarfon, Dinas a Waunfawr.
Tocynnau ymlaen llaw neu wrth ar y drws.
Mae'r gerddoriaeth fyw wedi'i chynnwys yn y pris mynediad ar gyfer pob diwrnod.
Bydd y dewis ardderchog arferol o gwrw go iawn a seidr wedi eu dewis yn arbennig gan ein rheolwr bar, Eryl Morris. Daw pob un o ficrofragdai, llawer ohonynt wedi'u lleoli yng ngogledd Cymru. Gallwch fod yn sicr o ddetholiad gwych gyda digon o ddewis i siwtio pawb.
Dewch draw i fwynhau eich hunain. Neu, yn well byth, dewch draw i wirfoddoli. Mae llawer o wahanol swyddi i'w gwneud ac mae mynediad am ddim a gwydriad i'r rhai sydd wedi gwneud hanner diwrnod neu fwy (dim yfed tra ar ddyletswydd).